AppleTV España
$170.00
Apple TV lets you stream all the video content in the iTunes Store to your HDTV, with purchases stored in the cloud. Netflix, Hulu, HBO,
Description
WATCH LIVE TV ON APPLE TV WITH SmartBoxPA
SmartBox PA supports 4th generation Apple TV (tvOS 11 and higher).
AppleTV is a digital media player and microconsole developed and sold by Apple Inc. It is a small network appliance and entertainment device that can receive digital data for visual and audio content such as music, video, video games, or the screen display of certain other devices, and play it on a connected television set or other video display.
Apple TV is an HDMI-compliant source device.[5] To use it for viewing, it has to be connected to an enhanced-definition or high-definition widescreen television via an HDMI cable. The device has no integrated controls and can only be controlled remotely, either by an Apple Remote or Siri Remote control device (which is included with Apple TV) using its infrared/Bluetooth capability, by the Apple TV Remote app (downloadable from App Store) on numerous Apple devices using its Wi-Fi capability, or by some third-party gaming controllers and infrared remotes.[6][7]
Apple TV runs software applications preinstalled with the system software or, for models running tvOS, downloaded from Apple's tvOS App Store over the device's Wi-Fi connection, with the most popular being those that stream video.[8] Major online content sources for Apple TV apps include subscription services for streaming television and film, cable and broadcast networks via TV Everywhere, and major sports leagues.
Its Wi-Fi capability is also used to receive content purchased or rented directly from Apple's ITunes Store, transmitted from other nearby iDevices via AirPlay, or shared from macOS or Windows computers running ITunes.
According to observers, Apple's March 2019 special event highlighted the company's reorientation of its focus away from the Apple TV hardware, which has lagged competitors with only 13% of U.S. connected TV market share, and apps on the set-top box, and toward higher revenue Apple-distributed video streaming that will be available even through competitors' devices, via the company's Apple TV+ original content service and Apple TV Channels a la carte premium video on demand subscription aggregating service.A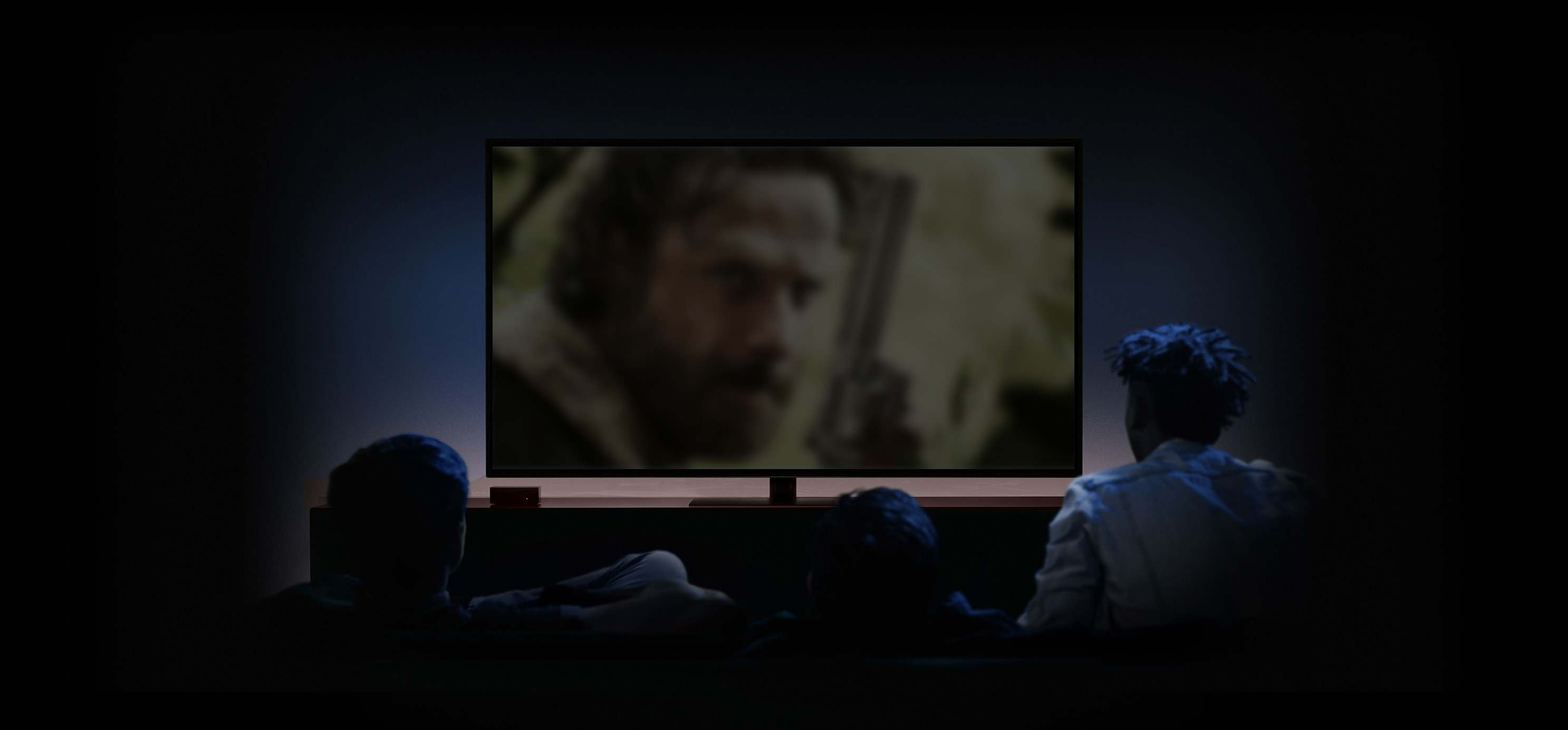 SmartBox PA on Apple TV.
allows you to watch your playlists (live or VOD content) and organizes its content in a beautiful and easy to use interface.
FEATURES:
– Multi playlists (remote, Xtream Codes or file upload)
– Search for channels in all playlists
– Favourites
– Favourites reorder
– Channel preview (Must be enabled in settings)
– Automatic find channels logos using channel name
– Full Electronic Program Guide support
– Easy to use and simple interface
– Supports most of the IPTV playlists
– Video player supports most of the stream codecs
– Supports EPG URLs with gzip/tar content
– EPG time shift
– Match TV frame rate
– Supports multiple audio/subtitles tracks
– Airplay 2 (when the Apple tv comes from sleep you need to select it again)
– Xtream Codes support (with catch up)
– OpenSubtitles support
Features of Apple TV include:
Video Streaming

Users of TVBOX507 can has the access to enjoy movies and TV shows from the iPlayTV app, giving you a variety of content such as Netflix, Prime Video, Hulu, Disney+, YouTube, HBO Max, Showtime, SKY, Cable Onda, Claro, Movistar Plus, Dish Network and DirecTV Now.
Users can also stream live and on-demand content from TVBOX507 with your login through iPlayTV app. The single-sign on feature in tvOS 10.1 and later allows users to log in to all of these apps at once, bypassing the need to authenticate each individually.
Music and Podcasts Streaming
Users can access their music and podcasts libraries that they purchased in iTunes through iCloud through the Music and Podcasts apps, respectively. In addition, users can also subscribe to music streaming services such as Apple Music and Spotify and access content that way.
 Photos

The built in Photos app syncs user photos from iCloud Photo Library and displays them on TV. In addition, users can download third-party apps like Adobe Lightroom to view, edit and share them.
Apps and Games
With the fourth generation Apple TV and later, users can download apps and games from the tvOS App Store. This app store is similar to the one found on the Apple iPhone and iPad.
Apps can now be ported from iOS easily by developers since tvOS and iOS share a common codebase and kernel.

Examples include the Papa John's Pizza app which allows for users to order pizza right from Apple TV and Zillow which allows users to search for homes right on their TV.A NASA app for Apple TV includes live streaming of NASA TV content, including International Space Station missions.

Games use the Accelerometer and Gyroscope along with the touchpad found on the Siri Remote for control. External Bluetooth game controllers can also be paired.

Examples include Asphalt 8, which can be played using the Siri Remote.
Casting and Mirroring

With AirPlay, users can stream or mirror content wirelessly from an iOS device or Mac. AirPlay can be accessed by swiping up from the bottom of the screen (swipe down from top right on newer models) in Control Center on iOS or in the Menu Bar on a Mac. Its functions include:

Casting, which allows users to wirelessly send video or audio from their iPhone, iPad, or Mac to the Apple TV.
Mirroring, which allows users to wirelessly mirror their Mac screen or AirPlay device which to the TV, using it as a second monitor.
Peer-to-Peer AirPlay, which uses Bluetooth to connect if the Apple TV and the iOS Device/Mac are not on the same Wi-Fi network.
Siri

Siri is built into the fourth generation and later Apple TV. It enables voice dictation in text fields,
A Live Tune-In feature that allows the viewer to ask Siri to tune to live streams of CBS All Access, ESPN, and Disney+ among many others that support Live Tune-In.
HomeKit

The third generationApple TV and later can also be used as a home hub to control HomeKit devices, such as locks, thermostats, or garage doors either locally or over the Internet. HomeKit Automation, such as automatic implementation of scenes, multiple user support, and using Siri to control devices, and remote access for shared users or HomeKit-enabled cameras is only possible with a fourth generation Apple TV or later.
General

HDMI CEC to control other devices in a user's home theater setup.
App Switcher which enables users to switch apps.
Aerial Screensaver which allows the TV to display a flyover view of a city when Apple TV is inactive. Screensavers can also be invoked from the home screen by pressing menu on the Siri Remote once.
More players.
More controllers.
More game.
With multiuser support for gaming, players can keep track of their individual game levels, leaderboards, and invitations — and switch between players on the fly. You can also connect more of your favorite controllers to Apple TV, including Xbox Elite Wireless Controller Series 2 and Xbox Adaptive Controllers.
Let HomeKit show
you the door.
Get a live view of your front door and keep an eye on all your HomeKit camera feeds — right from your Apple TV. Just ask Siri to view any camera at any time or see them all from the Home view in Control Center.
There's more to see. And hear.
Picture in Picture lets you watch a movie while you keep an eye on the game, or check the weather while you binge a TV series — all at the same time.
With AirPlay, you can share your 4K videos from the Photos app on your iPhone or iPad to your Apple TV 4K in their full resolution.
When it's quiet time, Audio Sharing lets you connect two sets of AirPods to your Apple TV and still enjoy movies and shows with a friend.
Watch the latest YouTube videos in their full 4K glory. Your favorite music, slo‑mo, outdoor, and vlog footage never looked better.
Size and Weight
Height: 1.4 inches (35 mm)
Width: 3.9 inches (98 mm)
Depth: 3.9 inches (98 mm)
Weight: 15 ounces (425 g)
Siri Remote
Height: 4.88 inches (124 mm)
Width: 1.5 inches (38 mm)
Depth: 0.25 inch (6.3 mm)
Weight: 1.59 ounces (45 g)
Bluetooth 4.0 wireless technology
IR transmitter
Accelerometer and three-axis gyro
Lightning connector for charging
Rechargeable battery providing months of battery life on a single charge (with typical daily usage)
Charging via USB to computer system or power adapter (sold separately)
Capacity: 32GB
Ports and Interfaces
HDMI 2.0a
802.11ac Wi‑Fi with MIMO; simultaneous dual band (2.4GHz and 5GHz)
Gigabit Ethernet
Bluetooth 5.0 wireless technology
IR receiver
Built‑in power supply
Processor
A10X Fusion chip with 64-bit architecture
System Requirements
Purchases, rentals, and Home Sharing require an Apple ID that you use for the App Store and other Apple services.
Requires 802.11 wireless, Ethernet network, or Broadband Internet access
Requires 4K and HDR TV for 4K and HDR streaming
Requires acceptance of the software license terms at www.apple.com/legal/sla
Requires HDMI cable (sold separately)
Video Formats
H.264/HEVC SDR video up to 2160p, 60 fps, Main/Main 10 profile
HEVC Dolby Vision (Profile 5)/HDR10 (Main 10 profile) up to 2160p
H.264 Baseline Profile level 3.0 or lower with AAC-LC audio up to 160 Kbps per channel, 48kHz, stereo audio in .m4v, .mp4, and .mov file formats
MPEG-4 video up to 2.5 Mbps, 640 by 480 pixels, 30 fps, Simple profile with AAC-LC audio up to 160 Kbps, 48kHz, stereo audio in .m4v, .mp4, and .mov file formats
Audio Formats
HE-AAC (V1), AAC (up to 320 Kbps), protected AAC (from iTunes Store), MP3 (up to 320 Kbps), MP3 VBR, Apple Lossless, FLAC, AIFF, and WAV; AC-3 (Dolby Digital 5.1), E-AC-3 (Dolby Digital Plus 7.1 surround sound), and Dolby Atmos
Compatibility
Apple TV is compatible with HD and UHD TVs with HDMI with Bluetooth keyboards
Accessibility
Accessibility features help people with disabilities get the most out of their Apple TV. With built-in support for vision, hearing, physical and motor skills, and learning and literacy, you can easily find and enjoy your favorite entertainment.
Learn more
Features include:
VoiceOver
Zoom
Increase Contrast
Reduce Motion
Closed Caption and SDH Support
Audio Descriptions
Siri and Dictation
Switch Control
In the Box
Apple TV 4K
Siri Remote
Power cord
Lightning to USB cable
Documentation
Apple TV and the Environment
Apple takes a complete product life cycle approach to determining our environmental impact.
Learn more
Apple TV 4K and the Siri Remote are designed with the following features to reduce their environmental impact:
Apple TV 4K
BFR-free
PVC-free5
Meets ENERGY STAR 5.0 requirements
Siri Remote
Arsenic-free glass
BFR-free
PVC-free5
Recyclable aluminum enclosure
Apple and the Environment
Read our Product Environmental Reports for detailed information on the environmental performance of every Apple product.
Apple Trade In
Ready to let go of your old Apple TV? Just give it to us, and we'll help you recycle it responsibly for free. Good for you. Good for the planet.